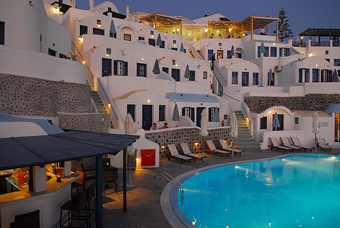 Volcano's View Villas is located in a very privileged position, on top of the rocks above the deep natural pool that keeps the dark blue waters of the Aegean.
Volcano's View Villas offers you the possibility to spend a dreamy vacation in the heart of Santorini, the Kaldera.
All our rooms are fully furnished and finely decorated to create a pleasant and comfortable atmosphere.
They are equipped with private bathroom, kitchen with utensils, refrigerator, heating and air-conditioning systems, telephone, colour TV set, music and of course they provide majestic view of the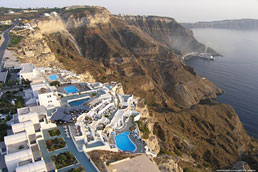 volcano and the Aegean Sea. Most of the rooms offer a private balcony or a veranda.
Our complex offers two swimming pools with Jacuzzi and pool bars, a snack-bar, a breakfast-buffet, a comfortable sitting-room with satellite TV, a dining room and a restaurant.
To ensure a wonderful vacation for your family and friends, we also provide a 24 hours reception, car rental department, exchange, safe box, parking space and a free shuttle-bus service for your transportation to Fira, the capital of the island, only 1800 m from the hotel.