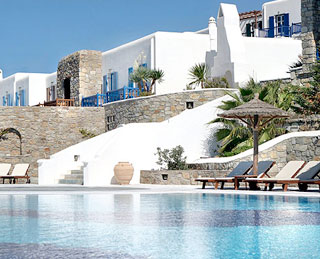 The Mykonos Grand offers exquisite style and an ambience as warm as the Greek sun.
Overlooking sparkling turquoise waters and the sacred island of Delos, Mykonos Grand offers 100 deluxe rooms and suites, some equipped with SPA like bathrooms (private steam cabin and large Jacuzzi) or sumptuous suites with private swimming pools.
In the true spirit of Mykonian Hospitality, you will experience dining at best. At our a la carte restaurant, the distinctive flavors of Greek cuisine is complemented by selection of seafood and international fare.
Located at the pool area and with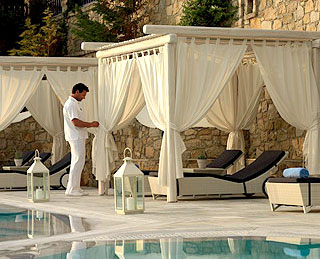 a great view of the Aegean sea, our Pool Restaurant and bar is shaded by a traditional wooden pergola and serves Greek mezes and barbecues, amid an informal Mykonian style decor.
Alternatively, with room service you can enjoy quiet moonlit dinners on your private patio.
Our guests have an unmatched opportunity to relax at our Health Club, Spa and Beauty Salon or stay in shape at the hotel's tennis or squash court and the exercise room which features a full range of training equipment.