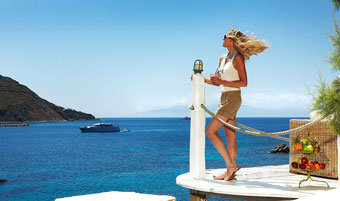 It is located on the magnificent Bay Ornos, just 10 minutes away from Mykonos town and the port. The warm hospitality of a small family residence is combined here with the luxury and comforts, only an exquisitely elegant villa can offer.
It has been fitted out with the latest hotel equipment and every de luxe amenity. Each one of the 45 sea view rooms and suites has been individually decorated. The design, both inside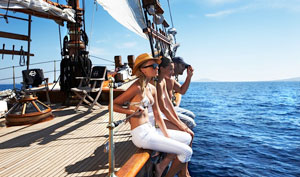 and outside the hotel, includes genuine antiques, sculptures, contemporary fragments, mosaics and frescoes, all created by famous artists and local craftsmen, under the meticulous attention of the owner.
A harmonious blend of past and present, where the 17th, 18th and 21st century pieces of art perfectly coexist, impresses you greatly.
For your relaxation and exercise, Kivotos Clubhotel provides two swimming pools, a private beach with water sports facilities, perfectly equipped fitness and health club, squash court and play room. Everything is wisely designed for your leisure and fun.